Permits
Information about film permits.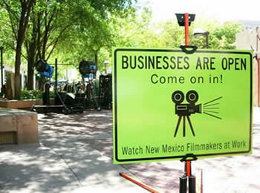 Please contact Rebecca Cavalier at rcavalier@cabq.gov or (505) 768-3289 prior to filling out any permits.
Generally, few permits are needed for filming in the Albuquerque area.
Permits are usually required for production on federal, state and tribal lands. Permits are required for production on city property, sensitive areas such as historical sites and on public streets and sidewalks, including county roads and state highways.
For more complete information regarding permitting, please contact us.
City of Albuquerque
The City of Albuquerque's permitting process has been designed for activities that affect the public's right of way or the City's ability to provide emergency services to the public.
It is up to the applicant to conform to the current laws and requirements, ensure that the production company has all the necessary permits and remains in compliance throughout filming. Failure to comply with the requirements suggested by City departments can result in a shut down of filming with possible legal ramifications.
Permits
Step 1: Contact the Albuquerque Film Office to find out if and what type of permit you will need. The best way is to email Rebecca Cavalier at rcavalier@cabq.gov with: filming dates, proposed filming locations, total number of cast and crew.
Step 2: Once you know what type of permit you'll need, you can easily download and fill out the permits on your computer. Follow the link to the permit you will need.
Step 3: Click "Save" to download the permit. The document will save as a PDF.
Step 4: Once you've downloaded the permit, fill out all of the blue highlighted fields.
Step 5: Be sure to SAVE your completed permit. Title it with the name of the production and film location then attach it in an email to rcavalier@cabq.gov.
Photo Credit: Marble Street Studio